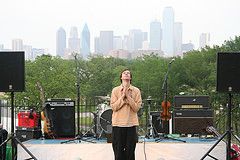 Music captured my attention early in life. Dad sang and played his Yamaha acoustic guitar for my brother and I when we were toddlers, teaching us songs like "Faded Love" by Bob Wills (which you can hear me sing regularly at Pearls every other Wednesday night), kid tunes like "Michael Finnegan," "Three Fishermen," "You Are My Sunshine," Loudon Wainwright's "Dead Skunk," and "Little Red Riding Hood" by Sam the Sham and the Pharaohs. I remember going to the Piggly Wiggly with Mom when I was 4 and hearing "Uncle Albert/Admiral Halsey" and marvelling at it's orchestration and it's multiple rhythm changes. The Beatles records played over and over on the turntable. I remember the smell and the dark (scary) mystery of Methodist church, rainy days, the lush, green, entrancing, Fritz Park of Irving, Tx., the fairy tale book wherein the animals all had strange expressions, the lovely melodies of Christmas carols. Everything touched me musically--even little league baseball was about rhythm.
Grandpa Rueffer (pro-nounced Ri-fur) gave my Dad his fiddle (a mail-order Roth from Sears and Roebuck, circa 1915) which he played in dances. When the Irving schools initiated a string program my fourth grade year, I eagerly enrolled. My orchestra teacher, Jerry Roe, inspired in me a career in music. He would be my guide for the next nine years. In eighth grade I began fiddle lessons with Johnny Thorn at Murphy's Music store at the Mall and began learning improvisation with a band of classmates, playing bluegrass and country music. The Delaware Creek Express, featuring my lil' brosephus on drums, played shows and parties for the next five years. I learned the rudiments of guitar and bass during this time.
I played my first bar gig with my Dad's band in '82 (the Chip-In Danceland, Rendon, Tx.) and debuted on a single covering Merle Haggard tunes with Ronnie Lee and the whatever-the-hell band, my first recording studio experience. I also began classical violin studies with Margaret Brouwer, and she helped me make All-State Orchestra all four of my high school years. I loved high school--wrote for and edited the school newspaper, sang in the choir, performed in several school plays, and toured the country in short bursts with Pickin' Tymes, a local bluegrass band featuring Tammy Rogers, our orchestra concertmaster and current Nashville songwriter/recording artist.
Chad and I fell in love with George Gimarc's Rock and Roll Alternative show on Dallas' KZEW Sunday nights, and we discovered the great post-punk bands like XTC, Echo and the Bunnymen, The Smiths, Siouxee, PIL, et al. We formed the short-lived Electric Farmboys (cows were the main audience) in '84 (hell's yeah, great year!), playing the underground tunes of the day and a few originals of mine. We also loved to jam out on Rush songs in the garage, Chad learning Alex Lifeson licks to near-perfection and me gamely attempting the bass and high-pitched yelp of Geddy Lee. I also began playing jazz/classical gigs with Christopher McGuire and this continued for many years, keeping me in books and school fees. Since college I have freelanced with a myriad of c/w bands, the biggest one being the great Ray Price (a personal hero of mine), a gig in which I experienced tour bus life and saw the USA.
I left for a Music Education degree at NTSU, eventually transferring to SMU on a full scholarship. I joined Chad's new band, Mildred, in '86 and we wrote and performed an eclectic, XTC-inspired rock for five years, culminating in the CD whippersnapper, which won best album in the Dallas Observer music awards in '92. By that time I had left school, got married, discovered Nietzsche, and left organized religion. A year later, Chad and I formed Spot, signed a deal with Ardent Records out of Memphis (Alex Chilton's label), and recorded an eponymous CD with John Hampton (Prod/eng/mix for the Gin Blossoms, The Raconteurs, The White Stripes, and many others). We toured for the next three years behind the regional hit "Moon June Spoon," enjoyed two whole video spins on MTV, and also released a cutting-edge (at the time) audio-visual CD, entitled AVCDEFG, featuring remixes and live tracks with interviews and video footage. When a deal with Interscope Records fell through, Spot called it quits.

I continued to freelance on fiddle, wrote songs, and eventually joined the Charley Pride band in 2000, playing fiddle, acoustic guitar and some bass. Simultaneously I formed my first rock band without Chad, The Hochimen, with guys I met playing jazzy originals and comedic improv with Paul Slavens (Ten Hands). Since then we've recorded two CD's, Totenlieder ('01) and Tierra del Gato ('06), the latter including my brother, who joined in '03. Chad and I also released two CD's with our C/W band, The Insiders, including Me and My Heart and My Shoes ('04), and a CD of Chad's, Be Where You Are Now ('09).

Currently, (when I'm not taking myself uber-seriously with Buddhism study) I continue to compose songs, perform with CPride, the Hochimen, my brother, and the occasional solo acoustic caterwaul. I also perform with the Randy Brown band, do session work for hire, and study the art of unknowing, wherein I find divinity within. I enjoy meditation, yoga, cooking, traveling, learning, cleaning, picking my nose, reading, really really liking my new girl Kimosabee Salgardo, and listening to silence, a rare commodity in this noisy, yappy world. I am slowly building my ship rather than waiting for it to come in.
Thank you for fighting through this account of my musical life.
Reg